Instructors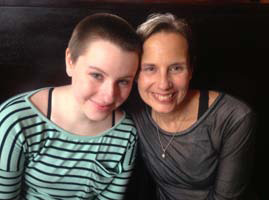 Lilli Ann Carey
Not only the owner of Dance for Joy!, organizer of camp, creator of An Evening in Vienna Ball, and coordinator and developer of Dancing 'till Dusk, Lilli Ann is also a national instructor, having taught in the DC area, Baltimore, Atlanta, Juneau AK, Vancouver BC, Portland, and the San Francisco Bay area. For over 6 years now, Lilli Ann has been creating a huge anthology of new waltz moves and new ways to convey her love of the dance. Newer to fusion blues, by way of her daughter Claire, she has discovered the moment-by-moment creativity that can happen when 16 years of dance experience join with the powerful but refined connection that is so key in partner dance. It is there, that remarkable life moments are made.
Claire Carey
Until more recently, Seattle's Dance community has known Claire as Lilli Ann's daughter and oft teaching partner. Over the past 2 years, Claire has grown into her own as both a remarkable dancer and instructor. With 2 ½ years of ongoing privates with local and national WCS pros, Claire has been wowing our community. And with over 14 years of dancing in a broad number of styles and the understanding grown from living and breathing partner dance from a young age, she has keen insights into the creative process, the art of connection, and inspiring ways to communicate these to other dancers.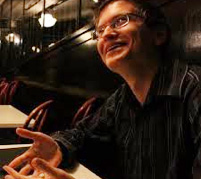 Nick Enge and Daniella Baiata
When Nick Enge began learning waltz with Richard Powers at Stanford University, he immediately saw the potential of social dancing not only as a fun and healthy pastime, but as a practice with the potential to enhance our lives and our relationships. With this in mind, Nick and Richard recently co-authored Waltzing: A Manual for Dancing and Living which describes 25 different kinds of waltzing, more than 100 variations, and includes many essays on the ways in which waltzing can enrich our lives through mindfulness, acceptance, and connection.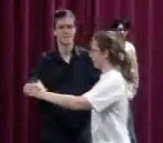 Several years ago, Nick met Danielle Baiata, an experienced social dancer and teaching partner of Joan Walton and Tom Hill, at Friday Night Waltz in Palo Alto, and they began an extraordinary creative collaboration. Known for their inventiveness, and for their fusion social dance choreographies with titles such as "Nightclub Schottische" and "Ten Dances in One Song," Nick and Danielle hold the record for most innovations in the Waltz Lab, creating 70 new social waltz variations in 20 weeks. They are frequent teachers at Friday Night Waltz and around the San Francisco Bay Area, where they love spreading the joy of dance to people of all ages and skill levels.
From Richard and Nick's book "Waltzing":
For all of our talk about the benefits of waltzing, the real reason people love to waltz is this: it's simply a whole lot of fun, because waltzing—and social dancing in general — is a quintessential form of play.
In fact, historically speaking, dance and play are synonymous. The English play comes from the Middle Dutch "pleyen," which literally means "to dance, leap for joy."
Waltzing is a master teacher of life skills, whether it is helping us harmonize our bodies and minds, or helping us harmonize with each other and the world. One of the most essential lessons it can teach us is the importance of a playful state of mind for adapting to the unexpected twists and turns of life. For in reality, play is not an activity, but rather a heightened state of mind that some activities, like waltzing, naturally inspire, which we can learn to apply across our entire lives.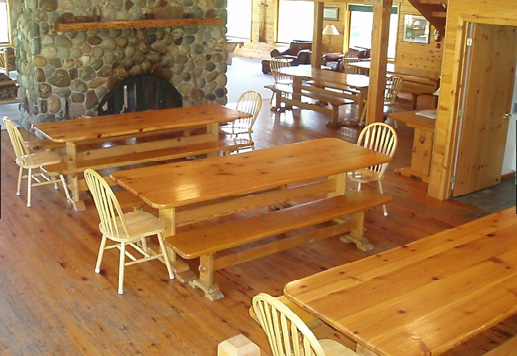 Meals
Both mornings there will be a catered buffet by Mountains Springs Lodge. The buffet will include assorted breakfast meats (thick cut peppered bacon, sausage and grilled kielbasa), scrambled eggs with cheddar cheese and green onion, buttermilk pancakes with syrup, hash brown potatoes, fresh fruit and pastries.
Both evenings Lilli Ann and company will prepare your dinner. Meals will be served at Ponderosa Lodge (pictured above) and will be of good quality, hearty and healthy, with gluten, vegetarian, and egg free options. If you have dietary restrictions, please notify Lilli Ann by email and we will try to accommodate your needs. Please also let us know if you are vegetarian or "no red meat," so we can plan accordingly. Early morning coffee and tea supplies will be provided in the lodges and cabins. At Beaver Lodge you will also find a small espresso stand.
If you need before-brunch meals, please plan accordingly and bring your own. In addition, refrigerators, plates, pans, and other kitchenware are available in the lodges for your use. Please be considerate and clean up after yourself and take any unused food home with you at the end of camp.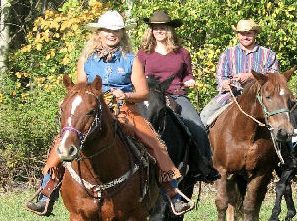 Horseback Riding
Mountain Springs Lodge has horses! They have 1, 2 and 3-hour rides available. We have left you time the day you arrive and in the mornings to play on your own. Mornings should be cool and sunny — perfect for riding before we all join up at the air-conditioned Beaver and Ponderosa Lodges for group lessons. Call Mountain Springs Lodge at 800.858.2276 to reserve your horse.
Other Important Information
Shoes — Absolutely no high heels (low block heels ok). Dedicated dance shoes only on the dance floor at Beaver Lodge.
Hot Tubs — Suits required for the comfort of all. Be safe, don't stay in too long, we want everyone to be just as healthy as when they arrived. We recommend that there be at least one person with you.
Alcohol — You may have alcohol in the Ponderosa, Pines or Trailhead Lodges, but not in the Beaver Lodge. Please use caution while consuming and dancing and hot tubbing.
"I had an absolutely fabulous time and was on a high that lasted all week. The dance retreat was set in a beautiful valley, with a fun, positive group of people. The dance instruction was great (my favorite was Claire's class on connection and Lilli Ann's class on the waltz mixer). Dancing the waltz mixer in a beautiful wood lodge felt magical and I hope it is repeated at the next dance camp. I had a wonderful time." — W. Cwinar