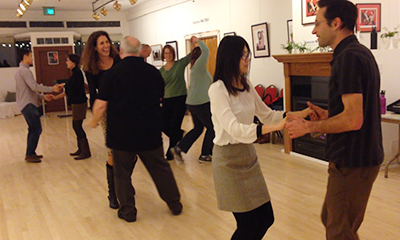 Dance for Joy! offers great dance instruction in a great environment!
We teach solid skills in Waltz, East-Coast Swing, Foxtrot, Blues and other dance styles that connect you to your partner and to the music while you're both having fun. You learn as you play!
This Fall Lilli Ann and Claire collaborate with NWDance for their classes! You'll find them at the Swedish Club on Dexter on Thursday nights! Their classes page is at: nwdance.net, series-classes/
Fall Session
Thursdays, September 17 through October 15
Swedish Cultural Center, 1920 Dexter Avenue North, Seattle, WA 98109
Instructors: Lilli Ann Carey and Claire Carey
Blues 1 (beginning)
6:30 - 7:25pm
Love those slow songs, but weary of the high school drape? Learn the art of slow dancing in our beginning blues class, where we explore a magical connection between partners. Without the constraints of a footwork to adhere to, you'll learn how to express elements in a variety of music, and you'll find the ability to speed up and slow down as the music speaks to you. Finally, we will show you how to take patterns from other dances and adapt them to blues, giving you the feel of infinite possibilities. No prerequisites
West Coast Swing
7:30 - 8:25pm
One of the hottest styles on the social floor, this dance is full of dynamic motion and creative play. We will teach you the three basic patterns that underpin all other moves in this dance—the push, the pass, and the whip—and start to build on how those moves blossom into limitless possibilities. We will explore a different kind of communication where energy is at the core of connection and momentum, and how these elements allow for incredibly gentle, but truly exciting variations. Prerequisites: At least one other level 1 class
Waltz 2: Shadow Figures
8:30 - 9:25pm
Shadow Waltz is tandem Waltzing! It's beautifully suited to slower and mid-tempo music and will fit with all your slow Waltz variations. Because the follow moves forward in shadow, these figures can be perfect for both the experienced follow and a newer follow, who will enjoy a more relaxed experience. We will teach you the transitions in and out and a lovely set of variations you can't wait to take to the dance floor. Prerequisite: Confidence with Waltz 1 material
Registration
Class Descriptions
Saturdays
We're on break until September 19th. See you then!
Drop-in Saturday West Coast Swing (and Other) Workshops
1:00-3:00 pm at Exit Space, 414 NE 72nd St., Studio 2, in Greenlake
$20 drop-in fee. You need to know your basic passes and whip to drop-in.
Each week Claire assesses the group and then builds a workshop to take students to a higher level in their dance by focusing on a theme and then developing it. Each dancer will feel like they received just what they needed to become more comfortable, creative and fluid.
"Claire Carey has really 'come into her own' as a West Coast Swing dance instructor. As a dancer, Claire has mastered the contemporary evolution of this creative and dynamic dance, and she has a knack for articulating the bio-mechanics of basics and the nuanced style, tension, and timing. I like how she adjusts her lesson plan to the needs of all her drop-in students. It's well worth the hour it takes me to get to Greenlake." — Steve Richmond
You must pre-register for Drop In West Coast Swing Workshops by emailing Lilli Ann here.
---
And see our Workshops page for our full workshop listings!
Late Fall Session
Next Session
Classes for the following session will include Beginning West Coast Swing, Intermediate West Coast Swing and Intro to Cross-step Waltz!
Class Locations
Swedish Club
1920 Dexter Ave N, Seattle, WA
Swedish Club
Parking: There's parking in their lot if you're early, or on the street.
Greenlake
Exit Space Dance (East Studio), 414 NE 72nd Street, Seattle
exitspacedance.com
Directions: N 50th Street Exit from I-5, north on East Greenlake Way N, West on NE 72nd St.
Park on street or in lots. Currently, parking on 5th Ave NE is still free all day. After 6pm, metered areas are free.
Capitol Hill
Russian Center, 704 19th Ave E, Seattle
russiancommunitycenterseattle.org
Directions:
From the south, take the Denny Street/E Olive Way Exit, merge on to E. Olive Way, continue on to E. John, L on 15th Ave. East, R on E Thomas, L on 19th.
From the north, take the Roanoke exit, L on E. Roanoke, R on 10th Ave E., L on E. Aloha, R on 19th Ave E.
Private Lessons
If you need to get up-to-speed for that upcoming wedding or class reunion, quickly improve specific skills, or don't see the right class for you, private lessons are the answer! go to our Registration page, e-mail Lilli Ann, or call her at 206-264-5646 to find out more!
FAQs
New to dance or new to Dance for Joy? Not sure if this is for you? If you are a new student, you may try your first class session for 1/2 price, or 2 people for the price of one if you'd like to bring a friend. Or you may try the first night of the class only for just $5! See our Registration page.
Where are the classes? See locations at left for directions and parking.
What shoes and clothes do I wear? Clean, non-marking low heeled or flat soled shoes are best. All dance spaces have beautiful floors and we are committed to keeping them that way — please wipe off the bottom of your shoes before walking in. Wear clothes that you feel comfortable in — most people dress casually.
Missing classes? Going to miss a couple of classes due to vacation or work and know this before the class session begins? Class pro-rations are taken on a case-by-case basis. If you miss a class during the session, arrive a bit early the next week and we will catch you up. We also usually review the previous weeks material in the first part of class and review all material on the final day of class.
What are the advantages of registering early? For all classes, please register early — space is limited, and we seek to balance roles (relatively equal number of leads and follows) and will wait-list if necessary to maintain that balance.
Other questions? email lilli@att.net or call 206-264-5646