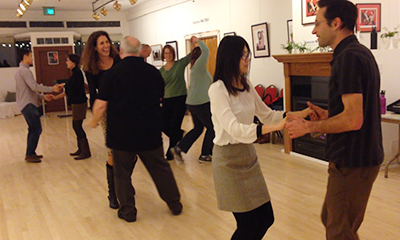 Dance for Joy! offers great dance instruction in a great environment!
We teach solid skills in Waltz, East-Coast Swing, Foxtrot, Blues and other dance styles that connect you to your partner and to the music while you're both having fun. You learn as you play!
This Winter Lilli Ann and Claire collaborate with NWDance for their classes! You'll find them at the Swedish Club on Dexter on Thursday nights! Their classes page is at: nwdance.net, series-classes
Winter Session
Sundays, January 7–February 4
Different moves each session!
Swedish Cultural Center, 1920 Dexter Avenue North, Seattle, WA 98109
Instructors: Lilli Ann Carey and Claire Carey
Beginning Waltz
3:00 – 4:00pm
Waltz is a beautiful romantic music and dance. Some say they dance a style of dance for the dance, some say they dance for the music — Waltzers dance for both. This class will start with easy basics and then develop a variety of beautiful moves to give you flexibility and confidence on the dance floor. Prerequisite: None.
Intro to West Coast Swing
4:00-5:00pm
One of the hottest styles on the social floor, this dance is full of dynamic motion and creative play. We will teach you the three basic patterns that underpin all other moves in this dance- the push, the pass and the whip, and start to build on those moves. We will explore a different kind of communication where energy is at the core of connection, and how these elements allow for incredibly gentle, but truly exciting variations. Prerequisites: Having some partner dance experience is helpful.
Foxtrot
5:00-6:00pm
Originally a Ragtime pattern dance offshoot from One-Step using the novelty of slow and quick steps, Foxtrot was quickly popularized as a creatively playful partner dance. One of the earlier versions and most commonly known and danced today is the SSQQ (Slow, Slow, Quick, Quick) style. Fun, useful and easily combined with Swing, it allows you to travel around the dance floor to a wide variety of music. Prerequisites: Having some partner dance experience is helpful.
Registration
Registration
Class Locations
Swedish Club
1920 Dexter Ave N, Seattle, WA
Swedish Club
Parking: There's parking in their lot if you're early, or on the street.
Fremont
Salsa con Todo, 211 North 36th St, Seattle 98103 (At the Center of the Universe, Fremont)
salsacontodo.com
Directions:
Take 99 to the N 46th Street exit and go west (towards Ballard). Take a left on Fremont Anevue N. Go down the hill and take a left on 36th Street just before the Fremont Bridge. Salsa con Todo is on your left in the first block.
Greenlake
Exit Space Dance (East Studio), 414 NE 72nd Street, Seattle
exitspacedance.com
Directions: N 50th Street Exit from I-5, north on East Greenlake Way N, West on NE 72nd St.
Park on street or in lots. Currently, parking on 5th Ave NE is still free all day. After 6pm, metered areas are free.
Private Lessons
If you need to get up-to-speed for that upcoming wedding or class reunion, quickly improve specific skills, or don't see the right class for you, private lessons are the answer! go to our Registration page, e-mail Lilli Ann, or call her at 206-264-5646 to find out more!
FAQs
New to dance or new to Dance for Joy? Not sure if this is for you? If you are a new student, you may try your first class session for 1/2 price, or 2 people for the price of one if you'd like to bring a friend. Or you may try the first night of the class only for just $5! See our Registration page.
Where are the classes? See locations at left for directions and parking.
What shoes and clothes do I wear? Clean, non-marking low heeled or flat soled shoes are best. All dance spaces have beautiful floors and we are committed to keeping them that way — please wipe off the bottom of your shoes before walking in. Wear clothes that you feel comfortable in — most people dress casually.
Missing classes? Going to miss a couple of classes due to vacation or work and know this before the class session begins? Class pro-rations are taken on a case-by-case basis. If you miss a class during the session, arrive a bit early the next week and we will catch you up. We also usually review the previous weeks material in the first part of class and review all material on the final day of class.
What are the advantages of registering early? For all classes, please register early — space is limited, and we seek to balance roles (relatively equal number of leads and follows) and will wait-list if necessary to maintain that balance.
Other questions? email lilli@att.net or call 206-264-5646