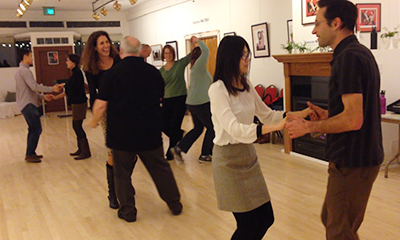 Dance for Joy! offers great dance instruction in a great environment!
We teach solid skills in Waltz, East-Coast Swing, Foxtrot, Blues and other dance styles that connect you to your partner and to the music while you're both having fun. You learn as you play!
From September through May 2018-2019, Lilli Ann and Claire are teaching Waltz in all its variations. From Cross-step through Rotary Waltz and the Mazurka, you'll learn new moves while working on advanced technique and styling, all with the personal attention you always get from Dance for Joy!
Fall-Spring Sessions
Fall Classes start September 18th!
In our classes we cover great and creative, socially danceable moves as well as practical and fun technique for leads AND follows! These techniques translate to all your dancing and we have been really excited to see how participants in our classes from in the nine months from Fall to Spring have gained skill-sets only found in advanced dancers.
All participants must either know the Cross-step Waltz basic or have taken our Beginner Cross-step Waltz Intensive (August 24 & 25) and be dancing at an intermediate level in some other dance.
$60 per person per class
Wednesdays 8:30-9:45pm. Class begins promptly at 8:30.
theNest, 6600 1st Ave NE, Seattle, WA 98115
All classes are at Intermediate/Advanced level.
Cool moves, techniques, skills and lots of laughs!
Early Fall: Cross-step Waltz — Sept 18th–Oct 23rd
Late Fall: Cross-step Waltz-Ready for Russia! — Oct 30th–Dec 11th (no class Nov 27th)
Winter: Shadow Waltz — Jan 15th–Feb 19th

Shadow Waltz is side-by-side waltzing. Both partners face forward and a tiny foot fudge by the leads leads to magic! The shapes of these moves are interesting, visually beautiful, socially leadable and very flexible. We will teach entrances and exits from the shadow variations and add to your repertoire with moves and styling you can't wait to take to the dance floor.

Early Spring: Foxtrot for Waltzers — Mar 4th–Apr 8th
Late Spring: TBD— Apr 23rd–May 27th

Be on time! Classes will start with a short 5min warmup for light strengthening and body flow.
Registration
Waltz taught by Waltz experts
Lilli Ann and Claire, a mother and daughter teaching team of over 10 years and have taught internationally.
Classes are limited to 12 students and are role balanced. Drop ins are possible with notice. All classes will include a videoed wrap up and personal attention when needed.
If you would like to be reminded, send us an email and we will let you know when sign ups are available, so you don't miss a thing!