It is our joy to teach dance creatively and playfully so our students come to know the sheer joy, laughter and fun of dancing together. Dance for Joy! gives dance lessons in Waltz, Swing, Zydeco and Blues. We are committed to bringing the delight of partner dance to Seattle through group dance classes, private dance lessons, dance workshops and dance events.
Latest
All Classes and dances are at the Russian Center (RCC)
704 19th Ave East (Capitol Hill, East of Volunteer Park, South of E. Aloha)
$65/session regular $40/Student
Just $32.50 for first-timers for a 6-week class!
A Cross-step Waltz Bridge Workshop
Bridging What You Know With What You'd Like To Know!
Monday April 7th and Wednesday April 9th
2 hours each night — 7-9pm $45 for both
email Lilli Ann if you're coming; pay at the door.
All Classes and dances are at the Russian Center (RCC)
704 19th Ave East on Capitol Hill, Seattle
Bridge or brush up on your skills from beginning or other waltz types to Cross-step Waltz — which has it's own decidedly beautiful form.
New Dances at the Russian Center
Scroll down for info on the new 2nd and 4th Saturday workshops and dances at the Russian Center on Capitol Hill.
Click "DFJ Dance & Instructional Videos" at left! Like what you see? Subscribe to our videos on YouTube and you'll never miss a post!
Like Us?
Click on the Dance for Joy! Facebook "Like" icon in the left side of this page and you can like us even more!
For more information on classes and events, contact Lilli Ann at lilli@att.net.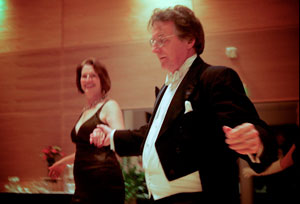 Evening in Vienna 2013 Photos!
Click here for photos from various contributors
Here are photos from our "An Evening In Vienna" dance event, November 10th, 2013. The Ball was wonderful!! With so many attendees, fabulous music by Orchestra Espressiva — an exceptional ensemble created by Dave Bartley, playful dances, lovely food and such an elegantly dressed crowd, it was a heavenly night!
Testimonials
"This is my second Swing I and I'm taking Swing 2 right after. TIRED after 2 hours but I love it. I plan on taking Waltz next. You are a great organization, and wonderful teachers! I have a couple friends taking Swing I with me this time, both have taken other classes, and both think you are so much better than their previous experiences. I'm very glad I found you!" — Susan Larson
"Dear Lilli Ann,
We are both enjoying the classes. We have taken a few other dance classes in past years, and we appreciate the things we have received in our other classes, but there is no doubt in our minds that your classes are the best organized, best taught and most enjoyable we have experienced. Thanks." — Scott Henrickson
"Lilli Ann and Claire are an enthusiastic and professional team. Their workshops have something for everybody — a clear introduction to the basics for the beginners, while at the same time challenging the more advanced dancers. Cross-step Waltz is a gorgeous dance, and they do a fabulous job of teaching it." — Marion Newvelant, Random Waltz, Portland, OR.
Sitemap | Web Design: Deane Nettles deanenettles.com | Site optimized for Firefox
If you have problems viewing this on a PC, please email Deane above so we can try to solve it.