Welcome to the 2011
Cornucopia
Harvest Ball!
A richly elegant evening of
Music, Dance
and Culinary Delights
The Polish Home
Sunday, October 16th, 2011
5 pm to 9 pm
Music By The Cornucopia Orchestra
Members of KGB and Joker's Wild
Julie King, Dave Bartley, Claude Ginsburg
Deb Kirkland and Bruce Reid
Glorious Waltzing, Swing, Tango, Polka, and One Step
Sponsored by Dance for Joy!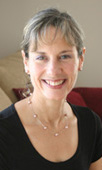 A Cornucopia, also known as a "Horn of Plenty," is a fall symbol of abundance. Those energies that we have invested in earlier months, return to us as we take inside our harvest and gather closer to friends and family with special foods and celebrations in the coming months. It marks a time of year beginning many traditions. It is our honor to bring you together to celebrate the changing seasons with this special Ball.
Please take a moment to read through this page. It contains information and items of import to all ball-goers. If you still have questions, please email lilli@att.net or call 206-264-5646. We look forward to the pleasure of your company!
— Lilli Ann
There will be no paper tickets.
Reservations are limited; tickets will not be available at the door.
GENERAL ADMISSION PRICES
TICKETS: $80/person
STUDENTS (Middle and High School or College): $50 (please bring your valid student ID)
Reservations are available only through Dance for Joy!

RESERVATIONS
Online — Go to our Registration page to make reservations online.
Mail — Make your checks payable to Dance for Joy!, PO Box 16060, Seattle WA 98116. Please include the names of who are attending, along with your email address so that we may confirm your reservation. You will receive a confirmation on or before October 10th by email.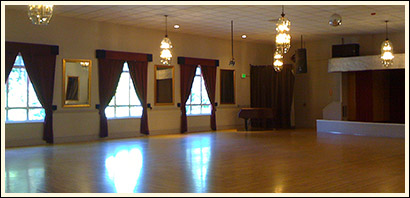 INFORMATION
OUR VENUE
Polish Home
1714 18th Avenue
Seattle, WA 98122
Purchased from the Renton Hill Club in 1920, the Polish Home has been the community center of the Polish community for over 90 years. It has a beautiful dance hall and a fine view of the Cascades. Learn more at www.polishhome.org.
SINGLES OR COUPLES?
Both couples and singles enjoy participating in the Cornucopia Ball. As is the case at similar events across the country, many dancers enjoy the pleasure of dancing with a variety of partners over the course of the evening.
ATTIRE
Attire for this elegant evening should reflect both the beauty of the season and our lovely venue.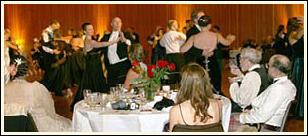 Gentlemen's Attire
Black tie, white tie optional.
Ladies Attire
Formal or tea-length gowns. All colors are seen whirling on the dance floor. Gloves are a nice touch, but optional. Those that enjoy a flair to the more dramatic may choose vintage attire anywhere from the Regency period to the 1940s.
For moderately priced gowns, eBay and Goodwill are good resources. On eBay there are many offerings. Do be certain of your measurements before bidding as most eBay items are not returnable. Also be cautious of overseas manufacturers, as quality sometimes does not measure up to expectations. I have also found lovely gowns at a finer local consignment stores.
PARKING
There are approximately 40 spaces available on-site. The balance of parking is street parking. (If you can, take a cab.) If you need handicapped parking, please contact Lilli Ann for a reservation at lilli@att.net. Handicapped parking is limited.
COATS
Hanging for coats will be made available to keep the ballroom tidy. We appreciate your cooperation!
DINING AND BEVERAGES
We are delighted to provide a beautiful light meal catered by Vios. I have personally found their food to be creative and of the highest quality. Those who live in the Capitol Hill area will recommend this restaurant — it is busy every lunch and evening.
Hors d'oeuvres
Hommus, Kopanisti, and Green Olive Tapenade with Warm pita
Dolmathes- grape leaves stuffed with bulgar, rice mix, pine nuts, currants and fresh herbs
Fillo Triangles with quince, feta and pancetta
Salads
Roasted Golden Beet Salad with sherry vinaigrette and mint
Butternut Squash salad with caramelized onions, apples and feta
Vegetables
Greek Oregano and Lemon Potatoes
Braised Greens with anchovy, capers and kalamata olive
Main
Greek Roast Chicken with oregano, lemon and garlic
Coriander Crusted Pork Tenderloin
Assorted Desserts
Baklava, Galatopita, Cookies, Brownie cake and Lemon tarts. (All homemade)
Bar
A No-Host Cash Bar will be available with a variety of wine, beer, cocktails, and specialty ciders.
DANCING
Dance Floor — The Polish home has a beautiful dance floor; please note that non-marking shoes are required.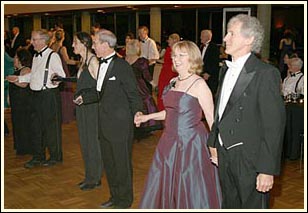 SPECIAL DANCES AT THE CORNUCOPIA BALL
The Grand March
What is a Grand March?
The Grand March is indeed a March that includes walking to music in twos, fours, eights or more. There are leaders of the March that orchestrate the dance. It is and has been the historic and lively vehicle by which everyone passes, meets, briefly greets and has an opportunity to "see and be seen." As we say in dance class, there is "no prerequisite" to being able to dance the Grand March.
The Cross-step Waltz Mixer
This is a beautiful mixer that will be taught at the first Orchestra Break — originally choreographed by Stanford University's professor, Richard Powers. The music that is traditionally played, "The Clock Stopped," was written by Dave Bartley of KGB. We will review the short and accessible choreography at the break. It is not necessary to know Cross-step Waltz and we will provide an alternate footwork compatible with cross-step, so that you may participate.
There will be special performances between the second and third orchestra sets.
DANCE CLASSES
Beginning Waltz and Beginning Swing Classes — If you would like to join us for The Cornucopia Harvest Ball festivities, but feel your dance skills need a bit of polishing, we offer classes to help you feel confident enough to dance the night away. Beginning Waltz and Swing will help prepare you for the event. See our Classes page for days and locations; register for these classes on our Registration page.
October 14-15 Ball Prep classes!
If you just want to polish up your dancing, take our Last Minute, Last Chance Ball Prep workshops focusing on Waltz, Swing and Foxtrot. Go to Roll Up the Rug to register. Take Friday, Saturday or both. Beginning and intermediate tracks! Special discounts for both nights.
We look forward to the pleasure of your company
at our Cornucopia Harvest Ball 2011.
Cornucopia Ball Registration
General Admission
Cornucopia Harvest Ball — Lead
$80
General Admission
Cornucopia Harvest Ball — Follow
$80
Student Admission
Cornucopia Harvest Ball — Lead
Student Admission
Cornucopia Harvest Ball — Follow
Or make your reservations by mail as noted above.