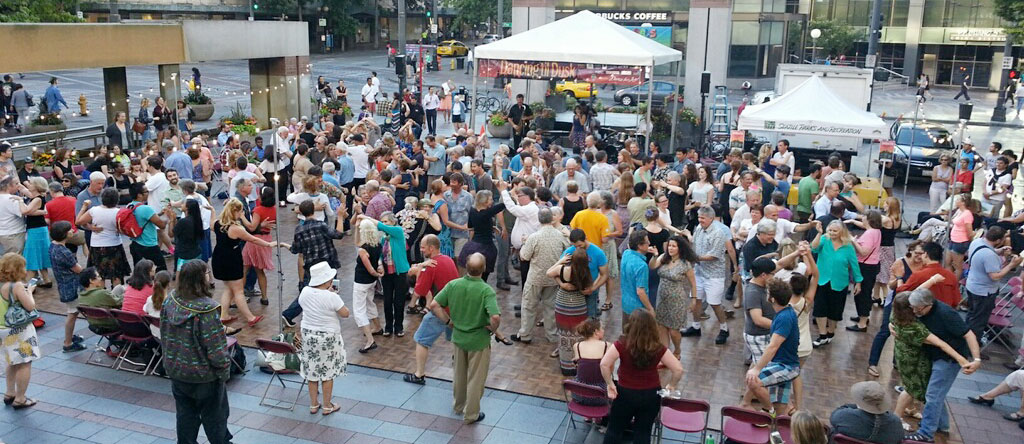 Join us for Dancing til Dusk 2018, 14 summer evenings of free music, dance lessons and dancing in downtown Seattle parks!
1st hour is a beginning dance lesson, no experience or partner required!
Rain Hotline:
206-264-5646
Tuesdays in Hing Hay Park
6-9:30pm
Jul 10 — Washboard Cutups | Swinging Jazz
Thursdays in Occidental Park
6-9:30pm
Jul 12 — KGB | Waltz & More!
Jul 19 — Casey MacGill Trio | Swing
Tuesdays in Westlake Park
6-9:30pm
Jul 17 — Billy Joe Show | Honky Tonk
Jul 24 — Curley Taylor & Zydeco Trouble | Zydeco from Louisiana
Jul 31 — Birch Pereira & the Gin Joints | Americana Rock 'n Roll Revival
Aug 7 — DJ Koichi Tsunoda | West Coast Swing
Aug 14 — Tangoheart | Tango
Aug 21 — Swingin' in the Rain with Dina Blade | A Little Bit of Everything
Thursdays in Freeway Park
6-9:30pm
Jul 26 — Portage Bay Big Band | Big Band Swing
Aug 2 — Buena Vibra | Salsa
Aug 9 — Lady A Band | Blues, Soul and Funk
Aug 16 — Ranger and the "Re-Arrangers" | Gypsy Jazz Swing
Aug 23 — Kevin Buster's Lunch Money | Swing, Waltz, and Blues / This is a Ball Rouge; wear red!
Tuesday, Aug 28
Annual Fundraiser!
Bell Street Community Center
6-9pm, $20/person
A variety of music to dance to!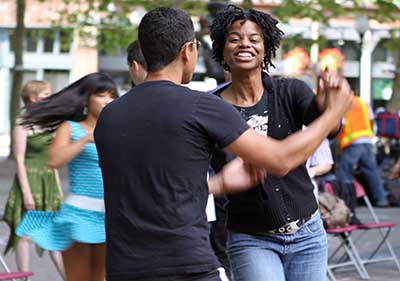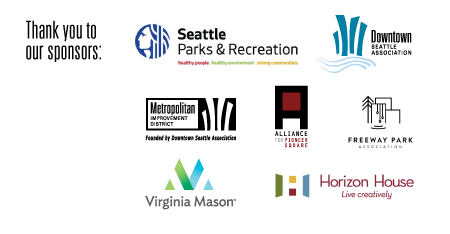 Organized by

Help support Dancing til Dusk!
You can support these fun Dancing til Dusk events:
To contribute to Dancing til Dusk, go to the Associated Recreation Council. They handle donations for Seattle Parks and Recreation, who produces DTD. Under "Donation Amount, Please direct my gift to:" select Dancing Til Dusk in the drop-down.