August Bands
Tuesday, August 1st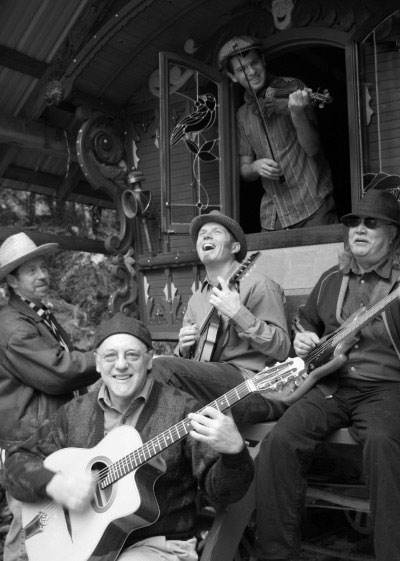 ---
Ranger and the 'Re-Arrangers' | Gypsy Swing/Variety
6–9:30pm in Westlake Park
Seattle Gypsy Jazz band Ranger and the "Re-Arrangers" evoke the spirit of a Paris café and the raucous energy of a Gypsy campsite with their unique twist on gypsy jazz. "At the heart of their sound is Ranger Sciacca's sweet violin playin, his sense of melody and daring improvisations" (World Rhythm Webzine). The band's repertoire includes swing standards, traditional Gypsy melodies, the music of Django Reinhardt and Stephane Grappelli, and Ranger's unique originals. Ranger and his father Michael formed Ranger and the "Re-Arrangers" in 2006, after returning from the Django Reinhardt festival in Samois, France. In the years since, the band has released 3 CDs and played over 500 shows, including summer concerts, festivals, swing dances, art openings, and weddings. rangerswings.com
Beginning East Coast Swing lesson with TBA
Thursday, August 3rd
Ben Thomas Tango Quartet | Tango, 6–9:30pm in Freeway Park
A favorite with Seattle dancers since 2007, the Ben Thomas Tango Quartet is dedicated to playing music that engages both dancers and listeners. With repertoire ranging from classic Golden Age tango to more modern and original compositions, they bring decades of combined professional experience to create a rich ensemble sound.
Beginning Tango lesson by Michelle Badion michellebadion.com
Michelle is one of Seattle's most experienced dance teachers, having taught full time in Seattle for over twenty years. She was Seattle's first Salsa teacher and third Argentine Tango Teacher.
Michelle loves to dance and totally believes that social dancing enhances every person's life. What truly sets her apart and makes her one of the most sought after teachers in Seattle, are some of the most important aspects that you look for in a dance teacher. Michelle is also a very fine performer.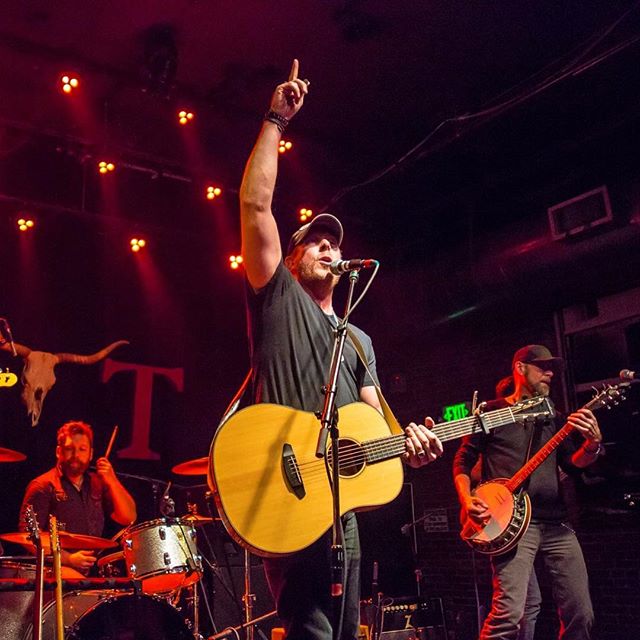 ---
Tuesday, August 8th
Aaron Crawford | Country & Western
6–9:30pm in Westlake Park
Raised in the hotbed music scene of Seattle, Aaron Crawford has a sound that blends his original influences, from church music, to Johnny Cash, all the way to U2. With his sophomore release of Evergreen, he has embraced the sounds of the Northwest, and you can hear it. After paying his dues for years on the honky tonk circuit, Aaron brings a confidence to shows that simultaneously puts the audience at ease, and on the edge of their seat. Singing songs "dripping with roots in a field of pop country artists" he has the courage to be genuine, and it shows. He loves the music he is singing and — whether solo or backed by his band of elite Seattle musicians — you can't help but be pulled into a good time. www.crawfordaaronmusic.com
Beginning 2-step country dance lesson by Sean Donovan | GatorBoyProductions.com
Sean Donovan combines passion for music and dance with his great love of teaching to provide joyful, exciting dance classes for all skill levels. Positive and playful, Sean is a creative and highly effective communicator, with intuitive movement awareness and a focus on the vital power of dance to delight and transform us. A professional instructor and DJ since 1999, Sean teaches partner dance nationally as well as year-round in Seattle, and has been on faculty with Northwest Dance Network, nwdance.net since 2004. In addition to Swing (his first love) and Zydeco (a profound connection prompting numerous expeditions to Louisiana and Texas), Sean revels in teaching Blues, Waltz, Whiskey River Jitterbug, Country Two-step, Cha Cha Cha and more. A professional DJ as well, Sean produces dances, provides music for special events and can be heard hosting live radio on KBCS 91.3 FM. Contact Sean about private or group lessons.
Thursday, August 10th
Zydeco Sound | Zydeco
6‑9:30pm in Freeway Park
Zydeco Sound brings the joyful spirit and groove-laden rhythms of Louisiana that'll drive you to the dance floor. Comprised of the young Salonen brothers, David and Danny (Dave Lang's grandsons who've grown up playing Cajun and Zydeco music, on bass and drums) and long-time zydeco veterans Kevin Kilmartin (guitar) and Mark Myking (accordion), this band is not only fresh and energetic but schooled in tradition. Most importantly, they understand — and deliver — zydeco music's power to make people dance.
Beginning Zydeco lesson by Sean Donovan | GatorBoyProductions.com
(See bio under August 8th, above.)
Tuesday, August 15th
DJ Koichi | West Coast Swing
6–9:30pm in Westlake Park
Koichi is rapidly becoming one of the most popular WCS DJ's in Seattle and beyond — a regular at the Century Ballroom and China Harbor, you'll also fine him featured for the plum late night gigs at West Coast Swing conventions. Koichi has a special knack for putting together a playlist that drives the dance and the dancers. Don't expect to sit down much — you'll only jump to your feet when the next song comes on. Koichi on Facebook
Beginning West Coast Swing lesson with Joshua Sturgeon and Hailee Vaughan
Thursday, August 17th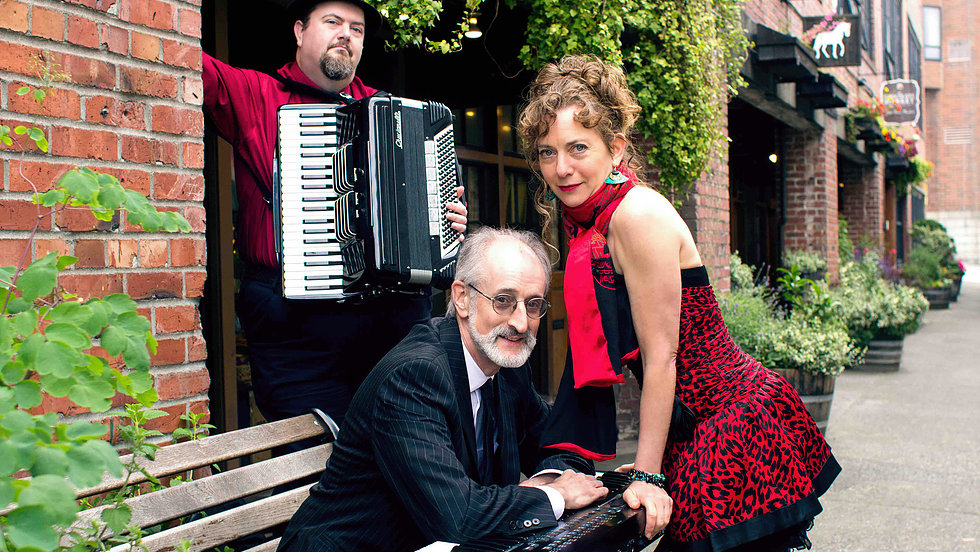 ---
Rouge: Music of Paris!

| Waltz and Swing
6‑9:30pm in Freeway Park

Rouge creates an atmosphere of romance and joy with music of Paris! Waltz and swing, etc. to their classic and modern musettes and jazz! Founded 19 years ago by vocalist and dancer Janet "Elle" Rayor, Rouge enjoys the joie de vivre and soaring melodies of violinist Brandon Vance, accordionist Toby Hanson, and keyboardist Clayton Murray. Rouge's recordings have been used by film, tv, video games, theatre, and radio internationally. rougemusic.com

Beginning East Coast Swing lesson by Lilli Ann and Claire Carey / danceforjoy.biz
Lilli Ann Carey began partner dancing with Living Traditions/Northwest Dance Network in the 1990's, where the draw of instruction, music, dance and community made her a complete convert. She loves to dance almost anything, but focuses her teaching on Waltz, Swing variations, Zydeco, Polka, Foxtrot, One-Step/Blues, Fusion and a few vintage dance forms. Lilli Ann promotes dance through classes, workshops and events through her company, Dance for Joy! She also coordinates the highly successful Dancing 'til Dusk program for Seattle Parks and Recreation during the summer, which attracts hundreds of dancers (and soon to be dancers) each night. Lilli Ann has taught in Vancouver BC, Juneau, Alaska, D.C., Baltimore, Atlanta, in the Bay area and in Portland. Her creativity, love of the connected and playful dance and innovation has brought her recognition and an ongoing and excited student base.

Claire Carey started learning East Coast swing at age 7, and quickly realized dance was a place she could be totally herself. Soon the repertoire included waltz, zydeco, blues, Lindy Hop, foxtrot, and nightclub two-step. At age 15, Claire started teaching with her mom, Lilli Ann Carey, and the duo became known for fun, creativity, and occasionally a priceless mom/daughter moment.

While partner dancing was always a hobby, and teaching quickly became a passion, Claire didn't become obsessed until she began learning West Coast swing. Claire is very thankful to have had the opportunity to train with top level professionals in West Coast such as Jordan & Tatiana, Sean & Courtney, John & Alyssa, Robert Royston, Jim Minty, and her coach of many years, Katie Schneider. Her hard work has paid off with multiple first and second placements, and currently competes at the Advanced level.

Although Claire is a technician through and through, she always brings her abundant joy and idiosyncratic nature into the room.
Tuesday, August 22nd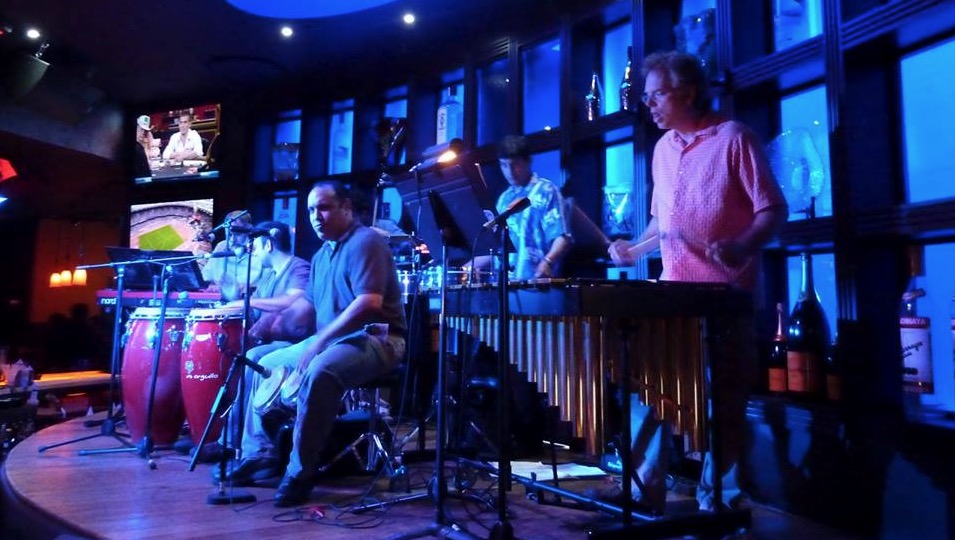 ---
Buena Vibra | Salsa
6–9:30pm in Westlake Park
Buena Vibra's mission is to recapture the glory days of the classic era of Salsa, Joe Cuba and Cheo Feliciano, Jimmy Sabater and the more modern sounds of Ruben Blades and Seis del Solar. The sextet is comprised of Fred Hoadley, piano and back up vocals; Jeff Norwood, Bass; Scott Ketron, Vibes and back up vocals; Sammy Alamillo, Timbales; Steve Guasch, Bongo and back up vocals; and Joe de Jesus on Conga and lead vocals. BuenaVibra is the newest addition to the Seattle salsa scene and promises to keep you dancing the night away. Buena Vibra Sextet on Facebook
Salsa lesson with Hallie Kuperman | centuryballroom.com
Hallie Kuperman is the owner of Century Ballroom and The Tin Table restaurant in Seattle, Washington. Since 1991 she has taught pretty much every form of social dance with the exception of Argentine Tango (for which you have to have prettier legs, she says). Currently she teaches Salsa and Waltz. She produces, co-choreographs and performs in Century's cabaret shows. Since 2005 she has been the co-instructor for NW School's Social Dance Program. Since 2010 she has helped produce the "Dancing With The Stars"-style fundraiser, "Seattle Dances," for Plymouth Housing Group. She has taught at Google, Microsoft, Team Survivor Northwest, EMP, University of WA, Cornish College of the Arts, Folklife and more schools and private lessons than she can remember. Her passion is Century Ballroom, her students, clients of the Ballroom and The Tin Table and creating a community that people will never forget.
Wednesday, August 23rd
FUNDRAISER for Dancing til Dusk / DANCE AT THE BEACH
Larry Unger & Audrey Knuth | Waltz and more!
6-10pm, Golden Gardens Bathhouse, Seaview Place NW, Seattle
Recommended donation $20
Guitar and banjo player Larry Unger and fiddler Audrey Knuth are a Boston-based traditional duo who play exhilarating tunes with driving rhythms. Their concerts feature American and Celtic tunes with elements of other traditions including Swing and Blues. They also draw from Larry's catalog of original fiddle tunes, which have been featured in several of Ken Burns' documentaries. Declared a "guitar genius" by Sing Out Magazine, Larry Unger joins fiddler Audrey Knuth for an unforgettable evening full of stirring musical experiences. audreyknuth.com/larry-and-audrey
No dance lesson
Tuesday, August 29th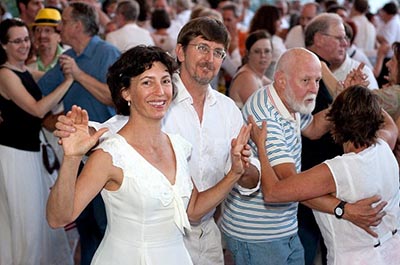 ---
Valse Café Orchestra | Waltz, Swing, Foxtrot, Polka (It's a Ball Blanc; wear something white!)
6-9:30pm in Westlake Park
The idea of a "café" orchestra appeared more then a hundred and fifty years ago in Imperial Vienna, and the Valse Café Orchestra has brought this good idea into the 21st Century: a small, nimble ensemble that can play like its big-cousin symphony orchestras — when it wants to — or shrink to a trio or a quartet when the mood is intimate. Performing post-modern renditions of dance-hall classics, this ensemble's repertoire celebrates a mélange of bygone eras and cultures: Paris in the thirties. Habsburg Vienna. Yiddish melancholy. Gypsy romance. Ragtime Manhattan. The milongas of Buenas Aires — all connected by the mesmerizing cadence of waltz and the exuberant syncopation of swing. Perfect for dancers and other romantics. valsecafeorchestra.com
Beginning Waltz lesson with instructor TBA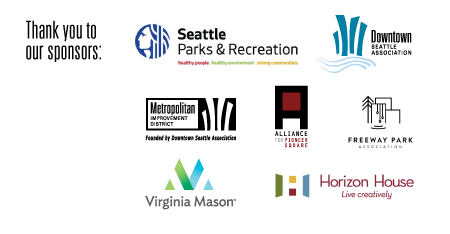 Organized by

Help support Dancing til Dusk!
You can support these fun Dancing til Dusk events:
To contribute to Dancing til Dusk, go to the Associated Recreation Council. They handle donations for Seattle Parks and Recreation, who produces DTD. You must select CCP-Downtown Park Support and then click on the "on behalf" button and enter DTD2017 in the text box.