It is our joy to teach dance creatively and playfully so our students come to know the sheer joy, laughter and fun of dancing together. (Besides, dancing makes you smarter.) Dance for Joy! gives dance lessons in Waltz, Swing, and Blues. We are committed to bringing the delight of partner dance to Seattle through group dance classes, private dance lessons, dance workshops and dance events. So come play with us!
Latest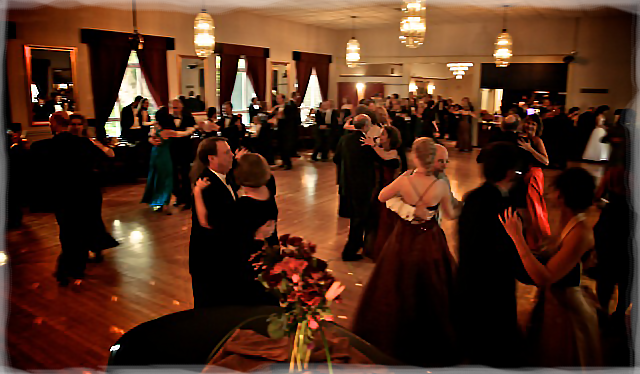 Saturday, December 5th, 7:30–11pm
The Polish House, 1714 18th Avenue, Seattle
Register Now!
The music will be tunes to dance to — songs remembered, our special favorites, and perhaps a few tunes reminiscent of days of old. The talents — Julie King on piano, Karen Iglitzen on violin and Marni Rachmiel on wind instruments — will play Waltzes, Jigs, Swings and more! Fabulous friends, coffee, tea and beautiful treats! Grab a date and register today!
Claire Carey and Nick de Vore demonstrate West Coast Swing at Dancing 'til Dusk, July & August 2015
Thursdays, 6:30-9:30pm
Swedish Cultural Center, 1920 Dexter Avenue North, Seattle, WA 98109, register through NWDance
This session we're teaching Blues, West Coast Swing, and Shadow Waltz through NWDance. We're looking for couples and follows; if you want to lead, call Lilli Ann. For class descriptions, go to our Classes page.
---
Like Us?
Go to Dance for Joy!'s Facebook page and you can like us even more!
Go to our channel at Lilli Ann Carey on YouTube to view our dance instruction videos! Like what you see? Subscribe to our videos and you'll never miss a post!
Get out and dance!
7:30-11pm, Russian Center, 704 19th Ave E, Seattle
Live music dances $15; DJ dances $15 for the lesson and dance, $10 for the dance only
September 26th, Kevin Buster's Lunch Money joins DFJ for the 4th Saturday Dance — just $15!
Now in it's 6th year with a pre-dance lesson and great music variety. Dance with lots of friendly people! No partner required! It's a winner!
Join our email list to learn what will be taught — see event dates and details here!

For more information on classes and events, contact Lilli Ann at lilli@att.net.
Testimonials
"This is my second Swing I and I'm taking Swing 2 right after. TIRED after 2 hours but I love it. I plan on taking Waltz next. You are a great organization, and wonderful teachers! I have a couple friends taking Swing I with me this time, both have taken other classes, and both think you are so much better than their previous experiences. I'm very glad I found you!" —Susan Larson
"Dear Lilli Ann, we are both enjoying the classes. We have taken a few other dance classes in past years, and we appreciate the things we have received in our other classes, but there is no doubt in our minds that your classes are the best organized, best taught and most enjoyable we have experienced. Thanks." —Scott Henrickson
"Lilli Ann and Claire are an enthusiastic and professional team. Their workshops have something for everybody — a clear introduction to the basics for the beginners, while at the same time challenging the more advanced dancers. Cross-step Waltz is a gorgeous dance, and they do a fabulous job of teaching it."—Marion Newvelant, Random Waltz, Portland, OR